GTD App Review - Wunderlist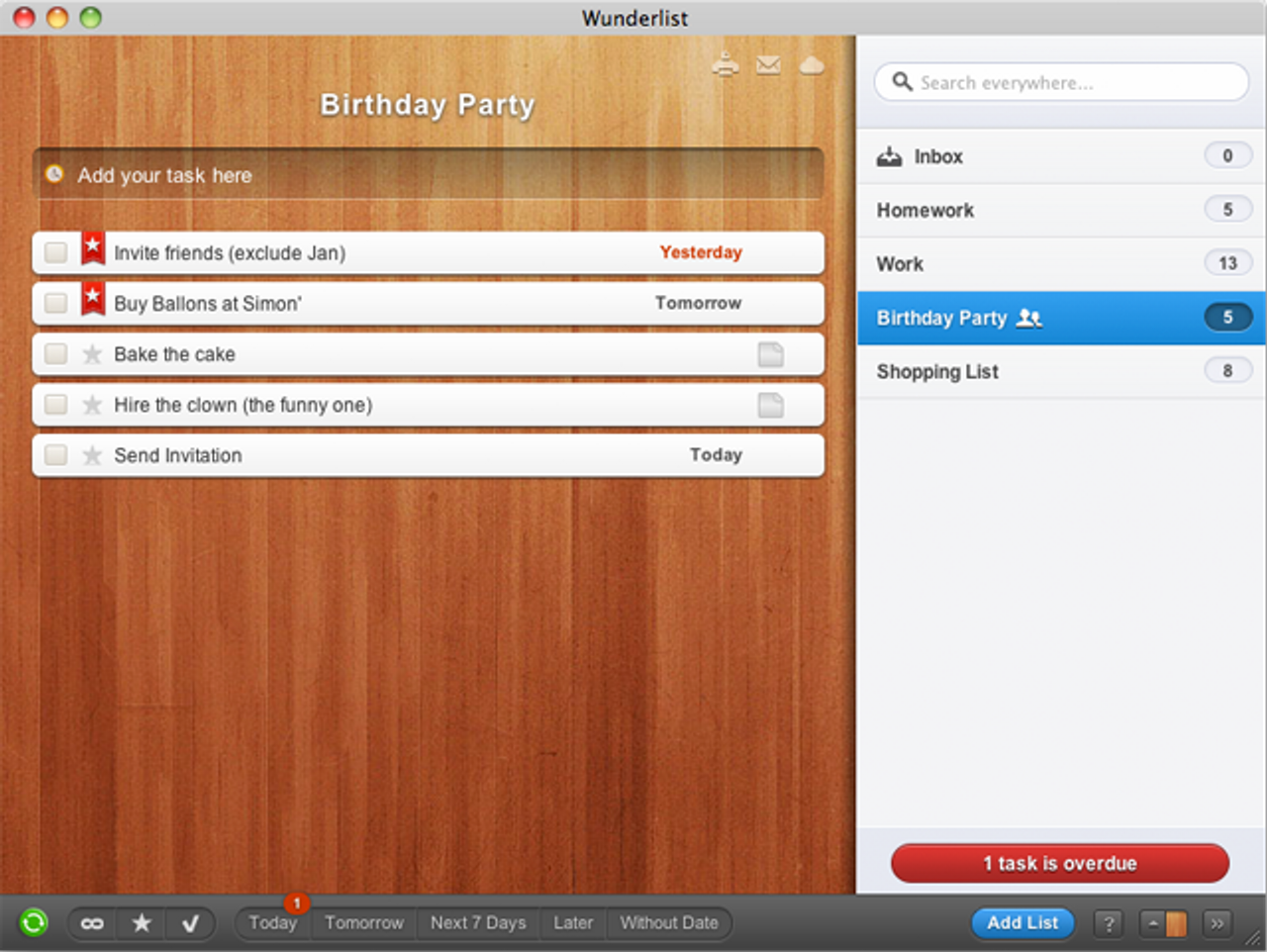 Wunderlist is a beautiful looking free app that is unbelievably simple to use. Providing that same experience across all the major platforms and devices. There's no need to re-learn or adapt for which platform you're on.
It lacks some GTD-esque features but what it does with the features it has, it does very well. It has a lot of potential for a GTD system, should they take note of the top most requested features. It also looks like Wunderkit, a kind of Wunderlist Pro, is just round the corner which looks like it could be the real GTD deal. Looking forward to seeing that (hint hint).
One little thing I did notice that stood out above all Android apps I use (non task management apps included) is the lack of add button next to where you add a task (No matter what app you use to add something, there's an add button next to it). You simply tap 'done' on the keyboard and the task gets added. It's a nice little touch, as your fingers are already on the keyboard.
If you've tried the Android app before and had a terrible time of it, they have released a native Android which is quicker and reliable.
How it Scored
This is how it scored against the criteria for a great GTD app.
| Criteria | Result |
| --- | --- |
| Quick add | Yes. Into any list incl an Inbox. |
| Projects/Sub-tasks | Yes. Lists. |
| Contexts/tags | No |
| Order tasks | Yes |
| Notes | Yes |
| Highlight/star | Yes |
| Search | Yes |
| Deadline | Yes |
| Reminder | No (Yes - on Android) |
| Recurring tasks | No |
| Sync with Google Calendar | No |
| User Experience | 5/5 |
Downsides
It doesn't do anything badly, it just lacks some of the features required for a good GTD system. Besides the shortage of features there's little wrong with this app. With the features it has, it performs them with beauty and ease.
Puzzling
You can set reminders on the Android version but not the Mac or Web versions.
The sync button/notification can often says it's  failed (goes red) but then syncs again and all is OK (goes green).
Useful Extras
The app is open source
Smart task adding. Eg Include a * to add a starred task. Include the word 'tomorrow' to add a task due tomorrow.
Choice of app backgrounds. The wood is my favourite.
You can share individual lists with people to collaborate on.
You can share all your lists on CloudApp and then give anyone the secret url.
You can show all tasks (or starred ones or completed ones) on one screen grouped by list.
Overdue tasks appear as a badge on the dock icon
How it Looks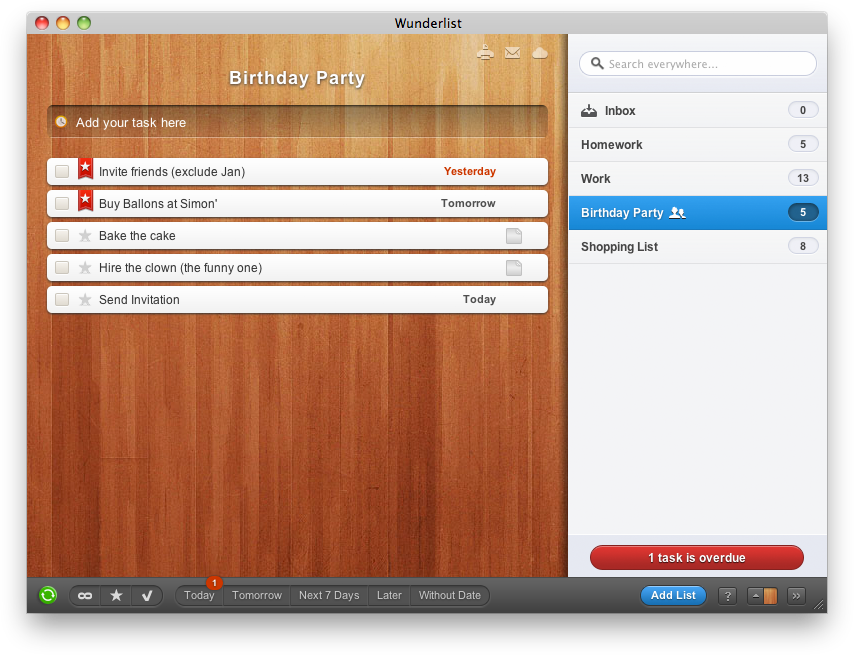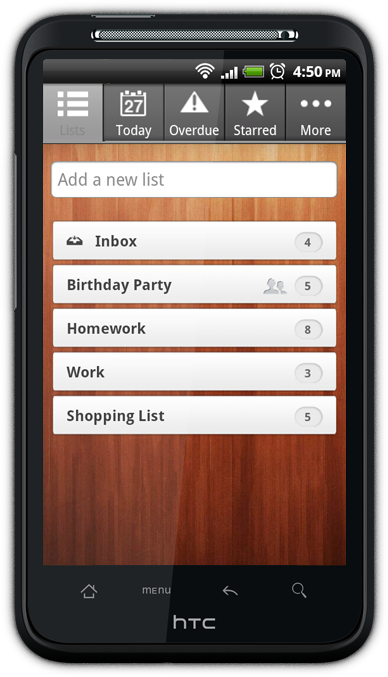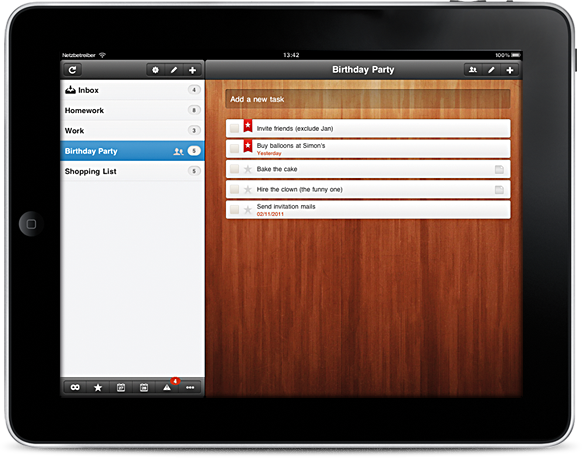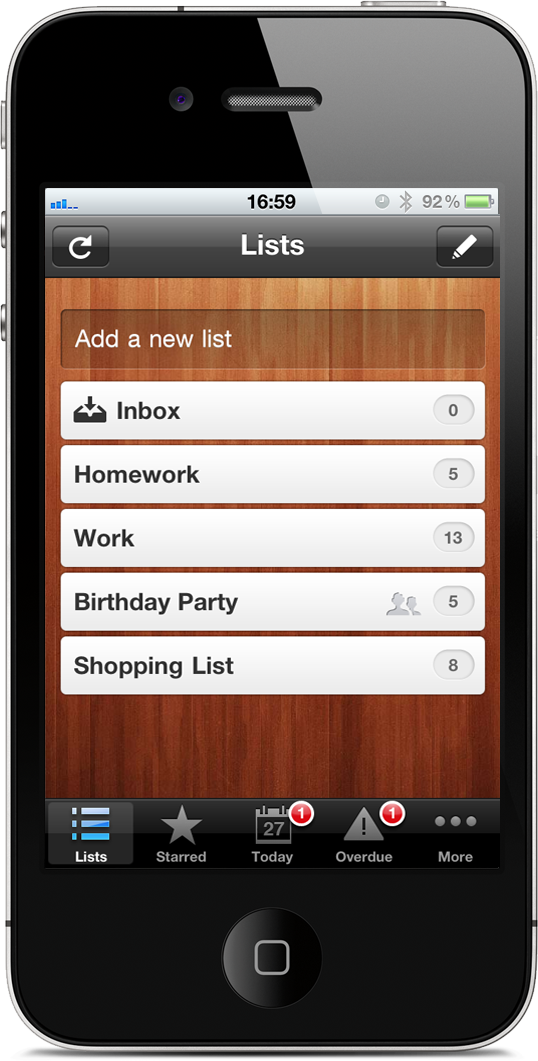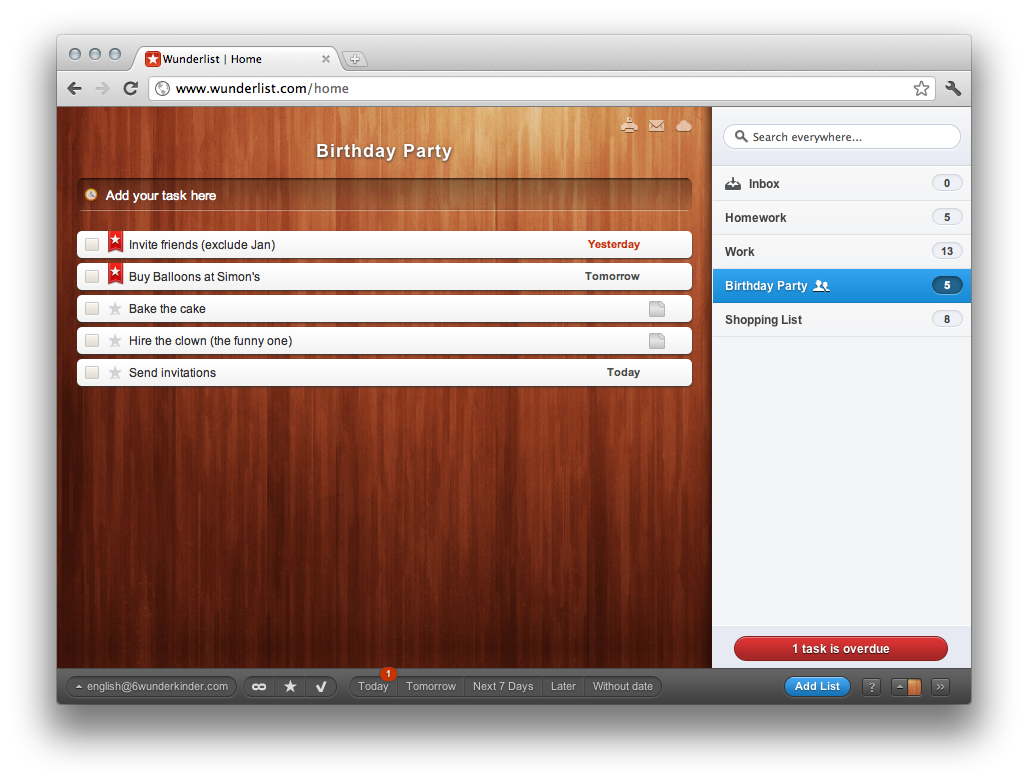 Platforms
Available on Mac, Android, Windows, iPad, iPhone and Linux.
Support
There's a comprehensive support area and you can vote for and request new features .
Price
Free for all platforms.