GTD App Review - Nozbe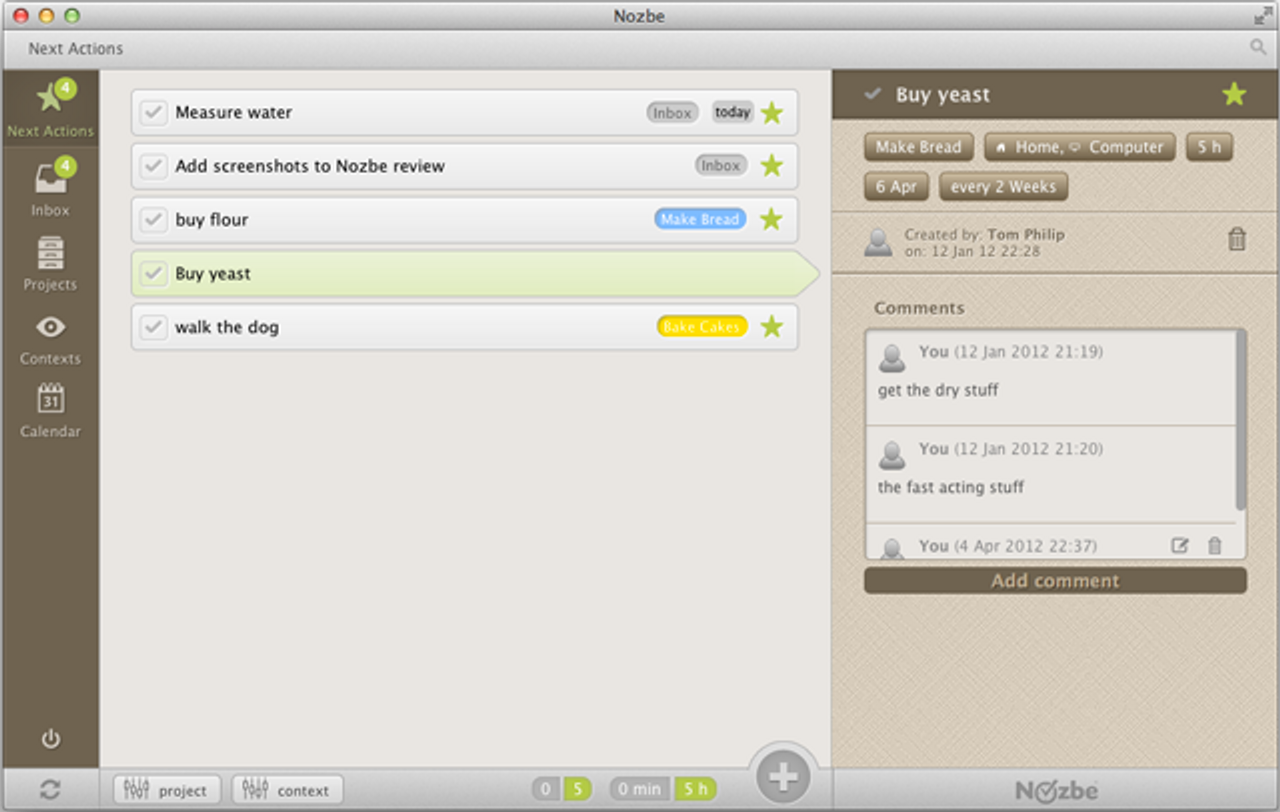 Nozbe's new Mac app is a well thought out GTD specific app, that has some great integration with other popular services like Dropbox and Evernote.
Nozbe is specifically designed for GTD, so benefits from being streamlined for the GTD process and doesn't require bending in some way to make it fit.
The Dropbox and Evernote integrations, unique to this app (out of those reviewed), make a great addition. Especially as I use both of these services frequently, especially Evernote for a GTD reference bucket.
The Android app has been re-written with a much improved UI, stability and speed improvements. So if you've tried it before and had a torrid time of it, it might be worth a second look.
Bear in mind the Mac app has just come out of beta, so for a first release it's pretty good.
How it Scored
This is how it scored against the criteria for a great GTD app.
| Criteria | Result |
| --- | --- |
| Quick add | No |
| Projects/Sub-tasks | Yes, projects. |
| Contexts/tags | Context, with icons |
| Order tasks | Yes |
| Notes | Yes, as multiple comments |
| Highlight/star | Yes, for marking tasks as next action |
| Search | Yes |
| Deadline | Yes |
| Reminder | No |
| Recurring tasks | Yes |
| Sync with Google Calendar | Yes |
| User Experience | 4/5 |
Downsides
No keyboard navigation in the Mac app.
It's a little on brown side. The right-hand side editing pane, lacks colour and contrast.
On the Android app, it's a bit sluggish (tested on HTC Desire) and there was the odd error.
Puzzling
Fonts seem blurry.
Selected tasks lose their icons and deadline when selected. Would be nice for those to remain, so you don't have to re-find them on the edit pane.
Useful Extras
Can tag projects with labels, eg work, home
Smart task entry with hashes to add context, deadlines, project, comment etc
Looks like you can invite people to work on a project
Time needed to complete a task
Add multiple notes to a project
Add files to projects
Associate a dropbox folder a project (looks like the Web app has box.net support too)
Evernote notes tagged with your project name get associated with that project
Colour code your projects
Full-screen for OSX Lion
Can add how long you think a task might take
Backup/export everything (except files) from Nozbe
Add tasks via Twitter
How it Looks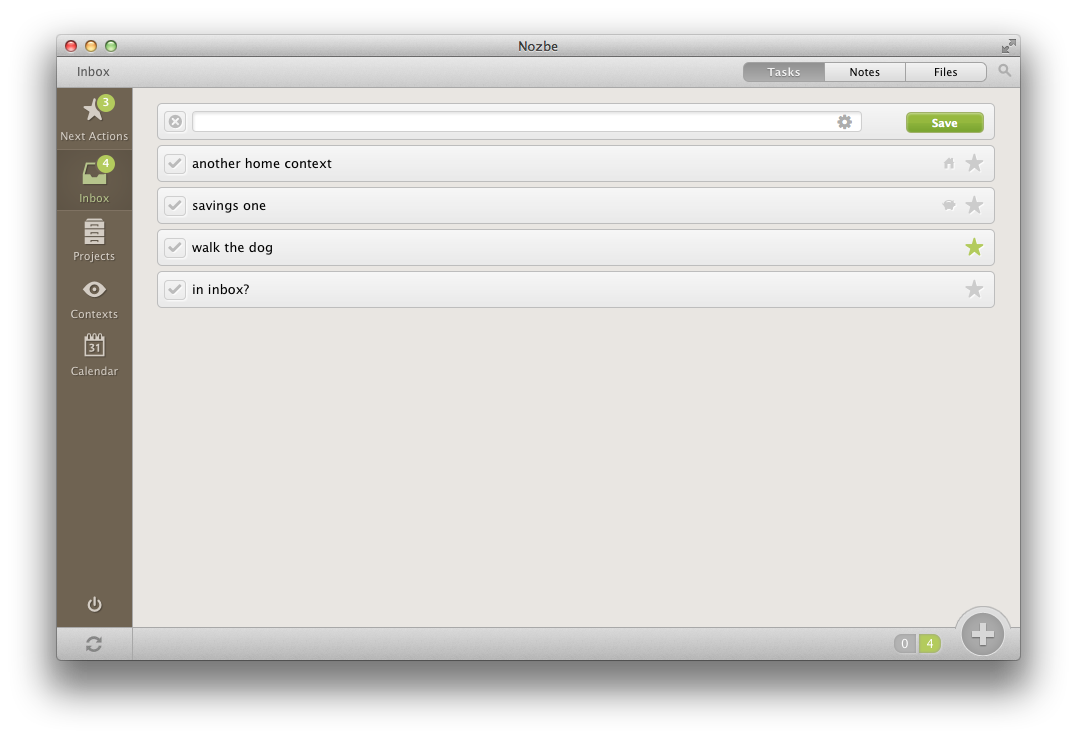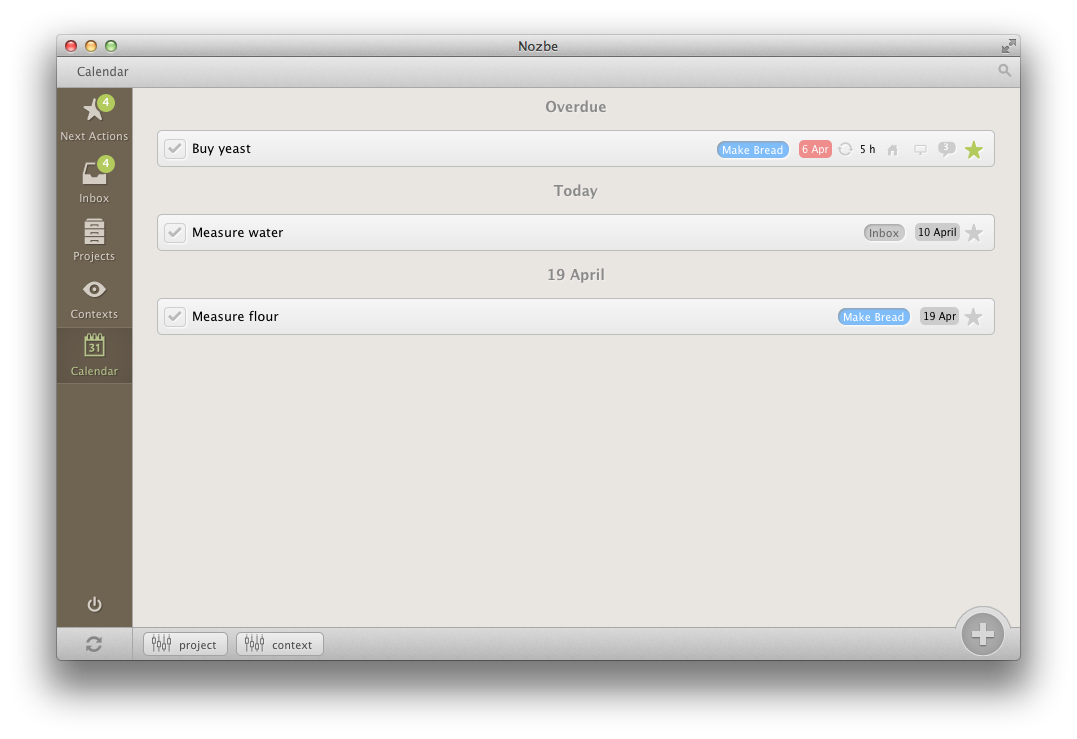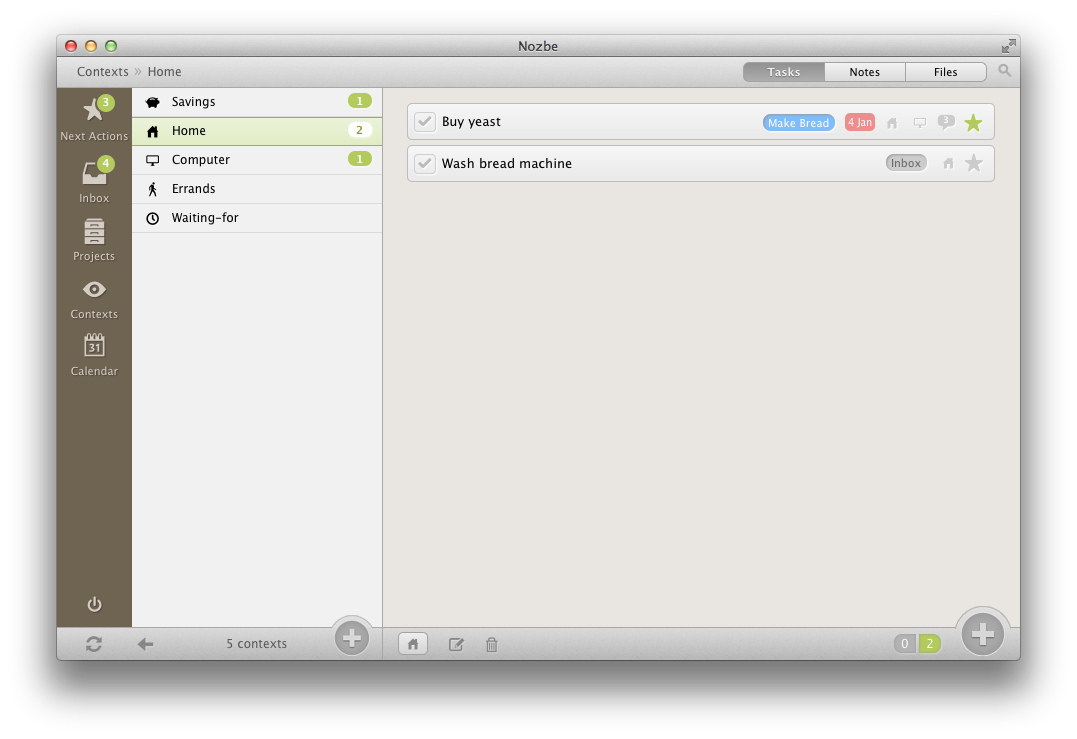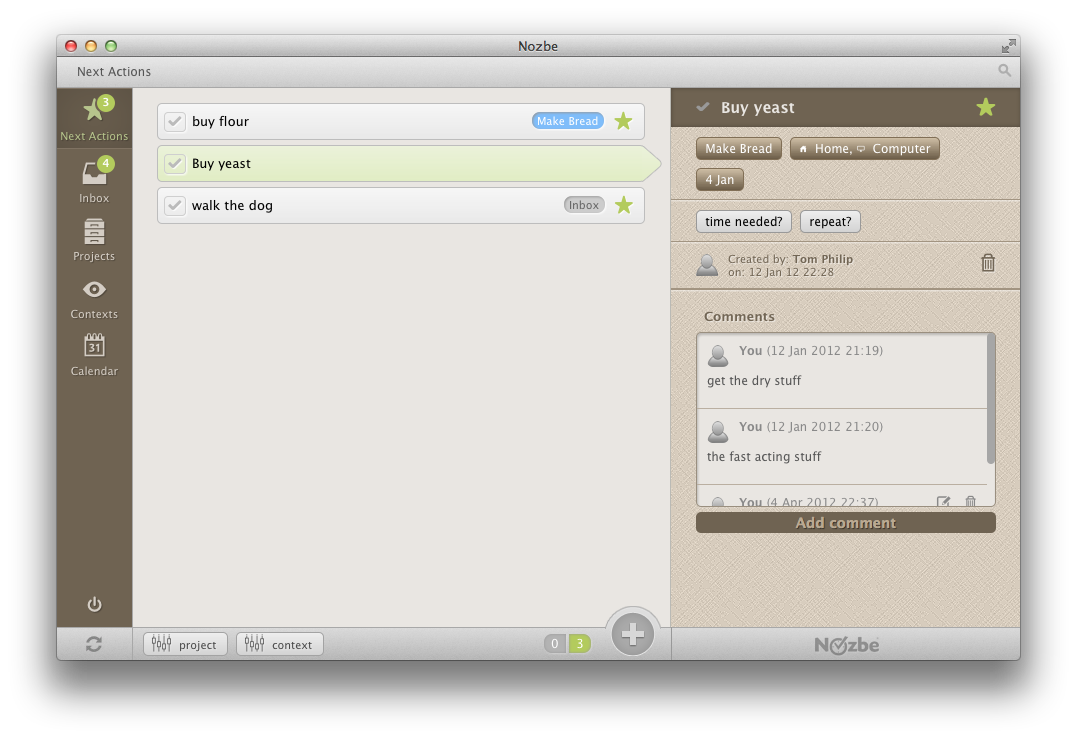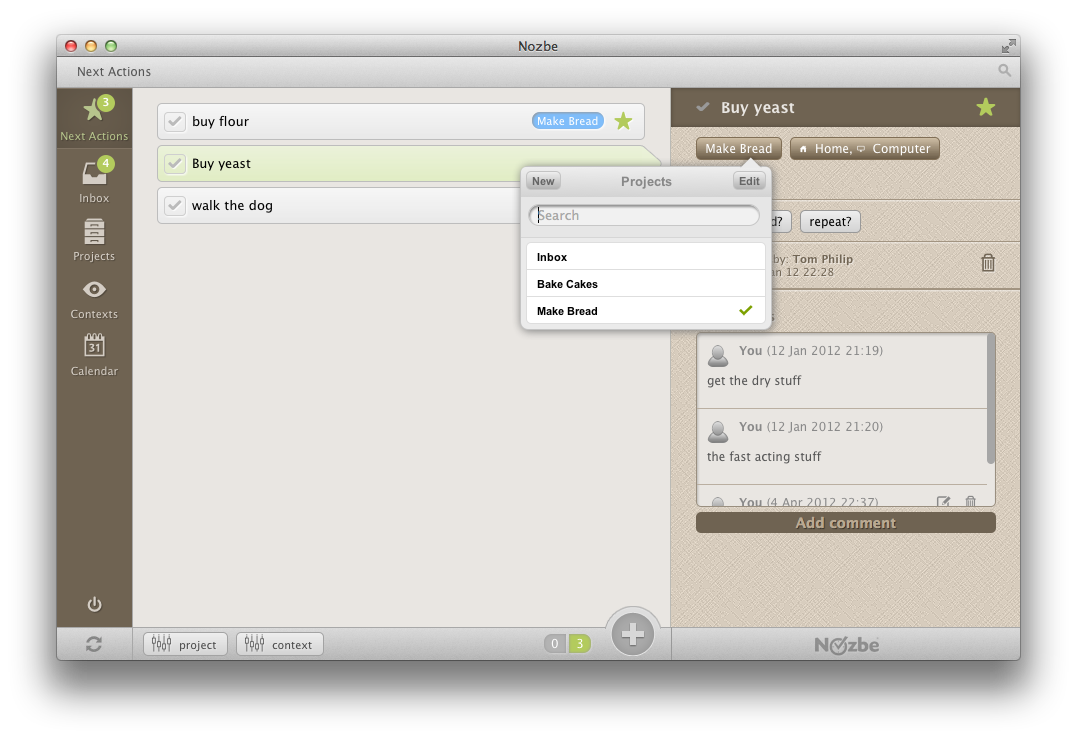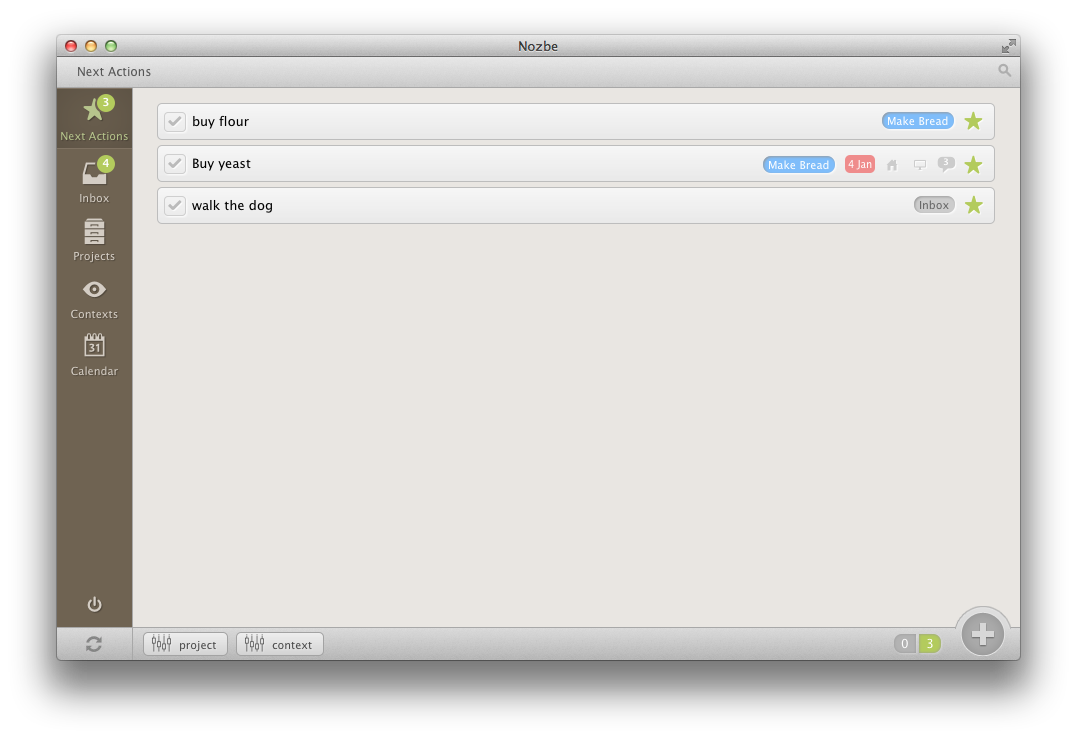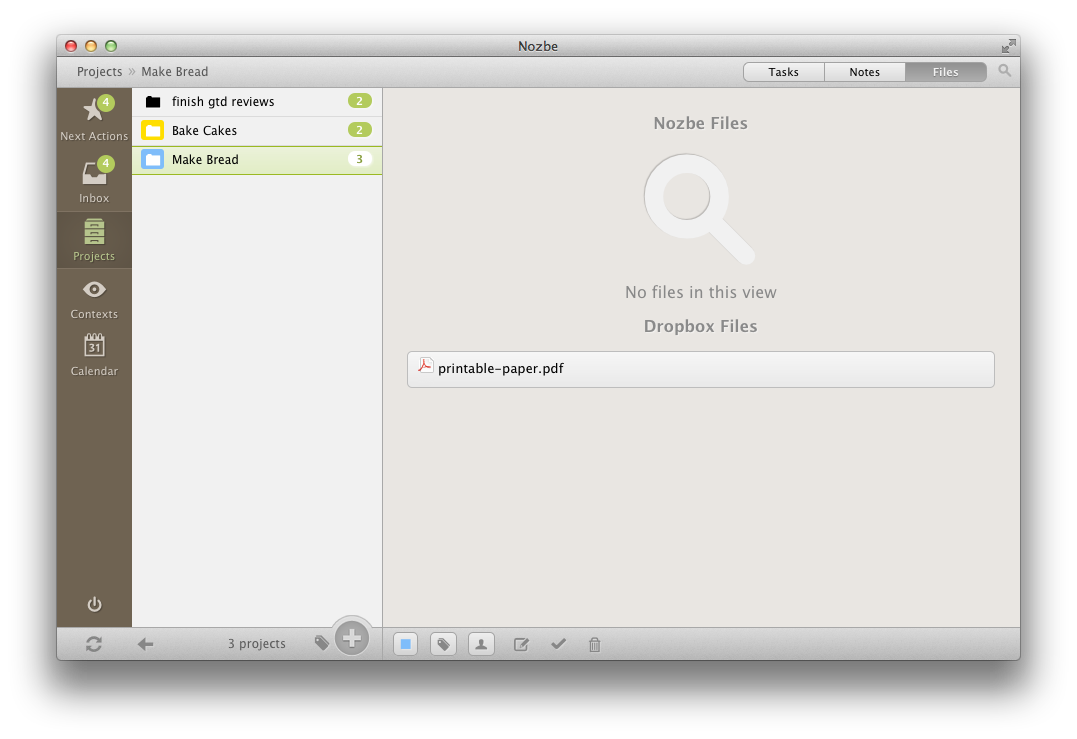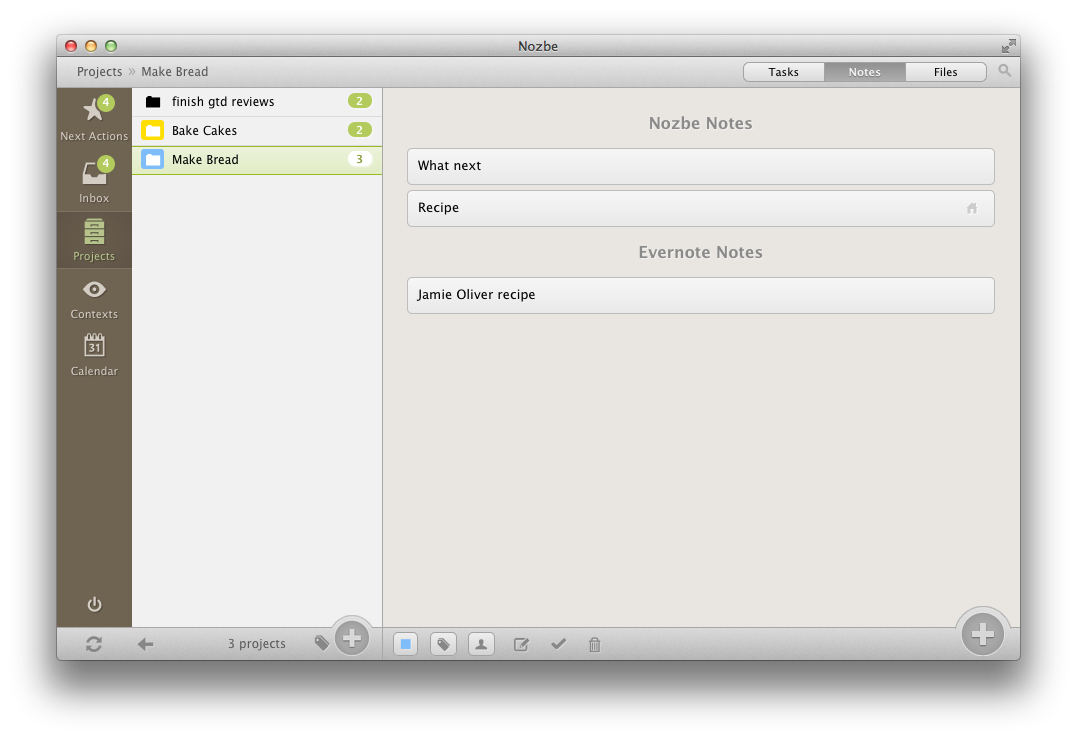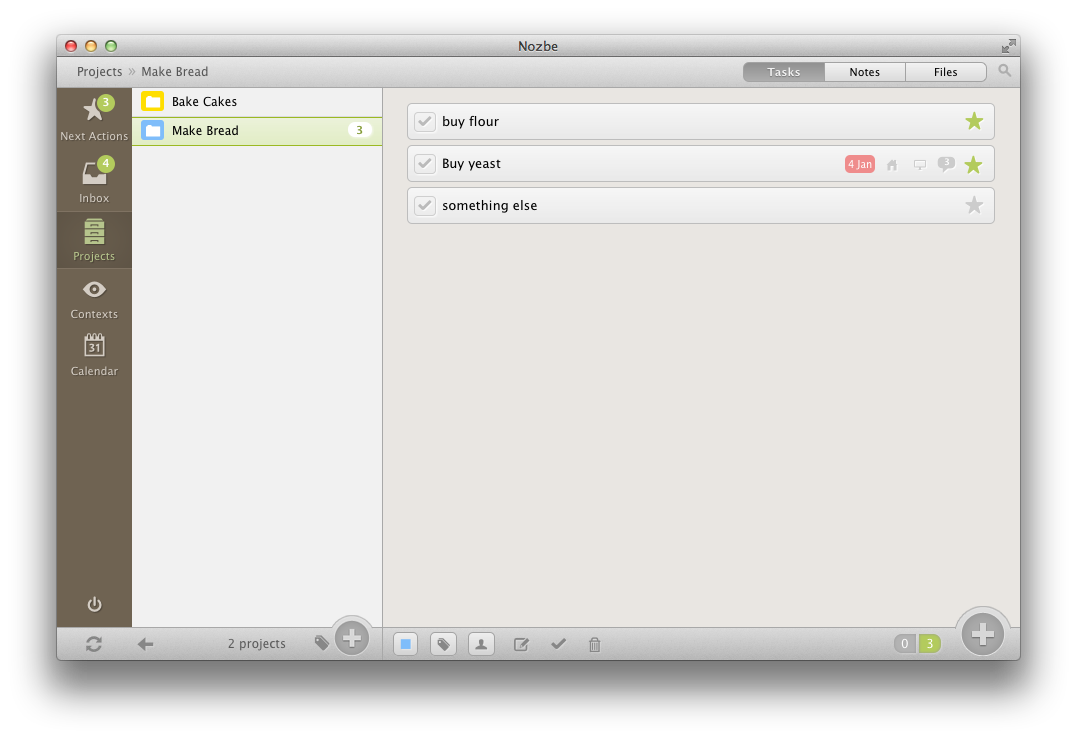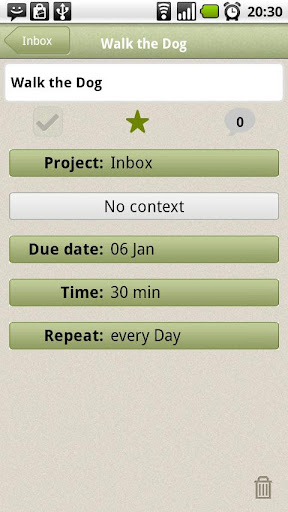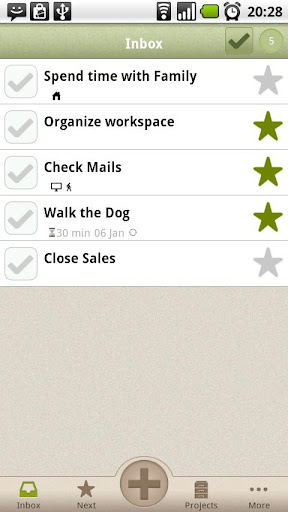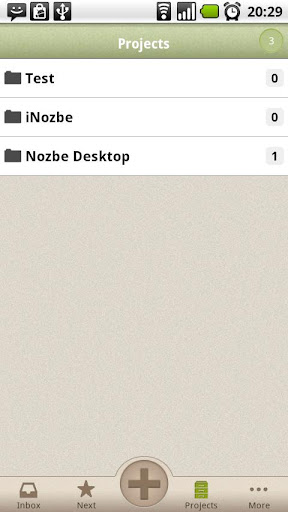 Platforms
Mac, Android, iPhone/iPad, Windows and Web (incl iNozbe a html5 offline capable mobile web app).
Support
They are active in their forums and can be contacted directly too.
Price
Free for up to 5 projects, then 9.95 EUR per month for unlimited projects for a single user. There's also pricing for groups.