GTD App Review - Conqu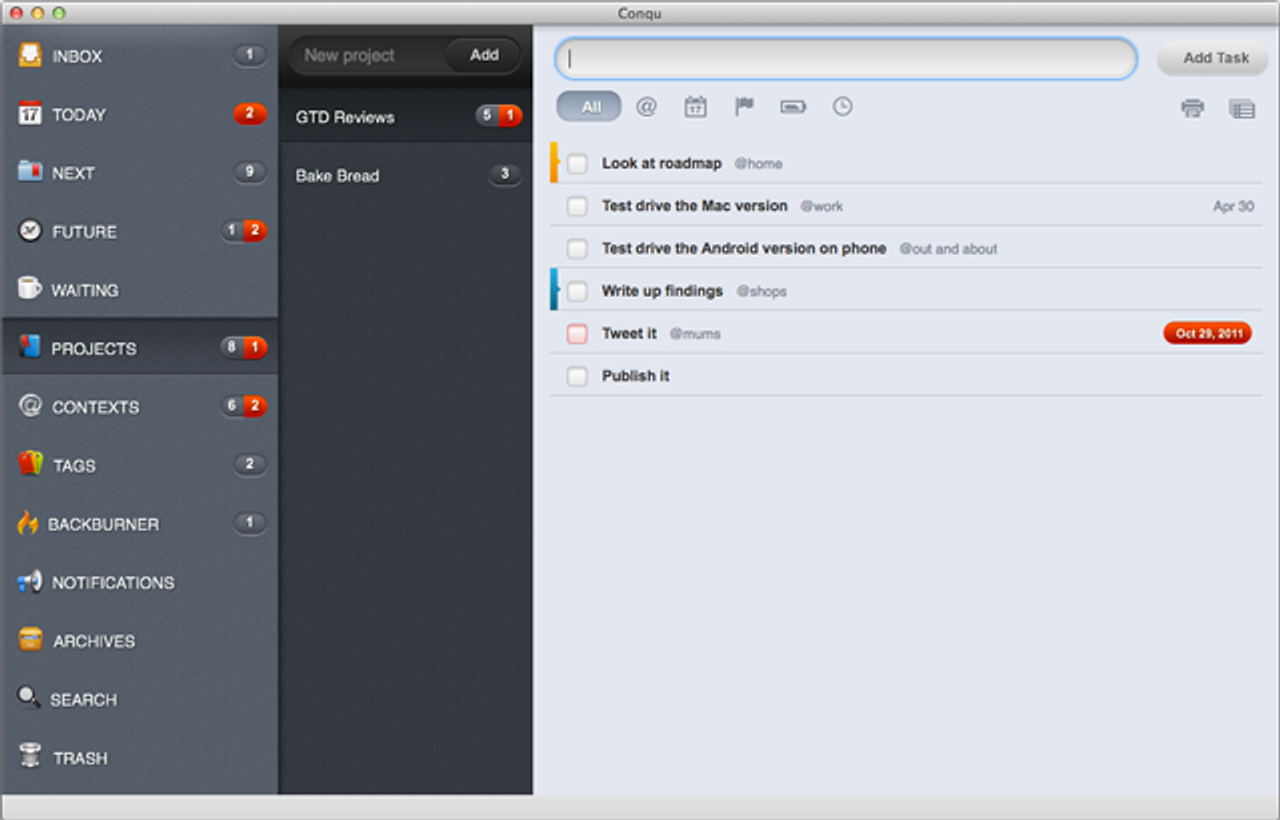 Conqu is a good, yet odd in places, looking GTD specific app for a host of platforms, including not so common ones such as Blackberry Playbook and Nook Color. With a decent feature set, clearly and simply laid out.
It's a real mixed UI. It has an eclectic mix of controls that are just odd and look handmade ie not your standard set. Followed by the inspired zoomed in task view. It's nice and clear, has a nice relevant paper note 3D effect, with a ribbon showing you where it's located and nice big text for the project it's in. Most apps task views are quite functional, Conqu's take is refreshing.
How it Scored
This is how it scored against the criteria for a great GTD app.
| Criteria | Result |
| --- | --- |
| Quick add | No |
| Projects/Sub-tasks | Yes, projects |
| Contexts/tags | Both context and tags |
| Order tasks | Yes |
| Notes | Yes |
| Highlight/star | Yes, 3 coloured flags |
| Search | Yes |
| Deadline | Yes |
| Reminder | Yes, scheduled date |
| Recurring tasks | No |
| Sync with Google Calendar | No |
| User Experience | 3/5 |
Downsides
Limited keyboard navigation. Only move up/down main menu, contexts, projects and tab into add task/project.
It's not a native Mac app (Adobe Air), so look and feels very different to anything else on the Mac. It even goes further than that, some of controls aren't recognisable from any OS/device I've used. They're not recognisable as to what they do (accordions that look like drop-downs) or controls that look similar but then behave differently (Flags vs Energy Level). Especially some of the dialogs for choosing things, they're a cross between a large tooltip, checkbox list and cylinder.
It's difficult to view your scheduled tasks, as you can only see a week at a time and you must select the day to view its tasks.
Puzzling
You can't swipe/scroll up and down to flip between the tasks (when viewing a task).
Obscure task ordering mechanism. Requires starting bulk edit mode, then selecting tasks to move, then choosing a sort option (up, down, first etc) unselect, select another, repeat. Drag and drop? At least it has ordering though.
Useful Extras
Time needed to complete a task (comes in quick, med, long or a specific time)
Amount of energy required to complete the task (low, med, high)
Assign tasks to other people
Overdue tasks appear as a badge on the dock icon
GTD specific menu, has items such as Next, Projects, Contexts, Waiting for, Backburner (Someday maybe)
Pills in the menu that show the number of tasks vs those that are overdue
Plenty of filters to filter items in a list/project
How it Looks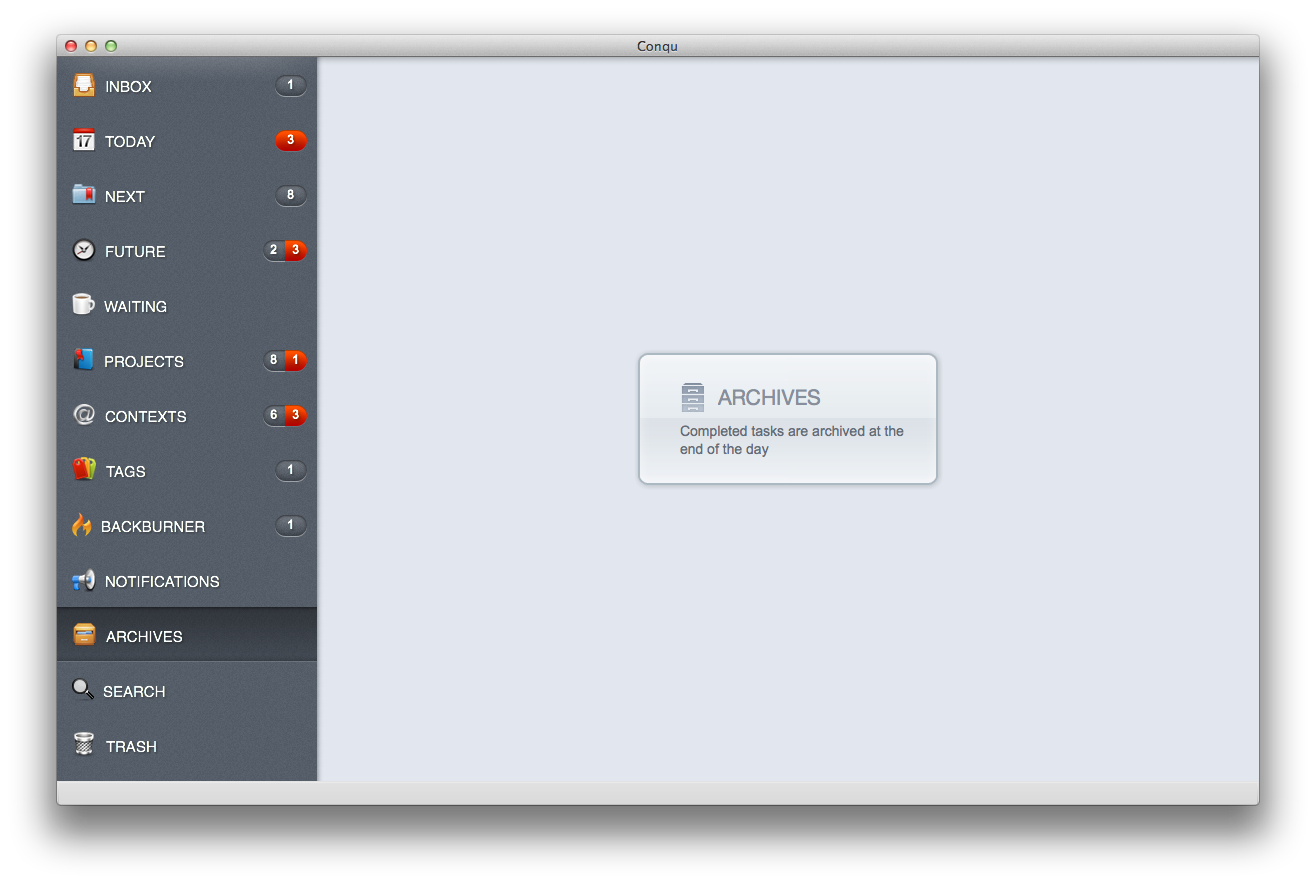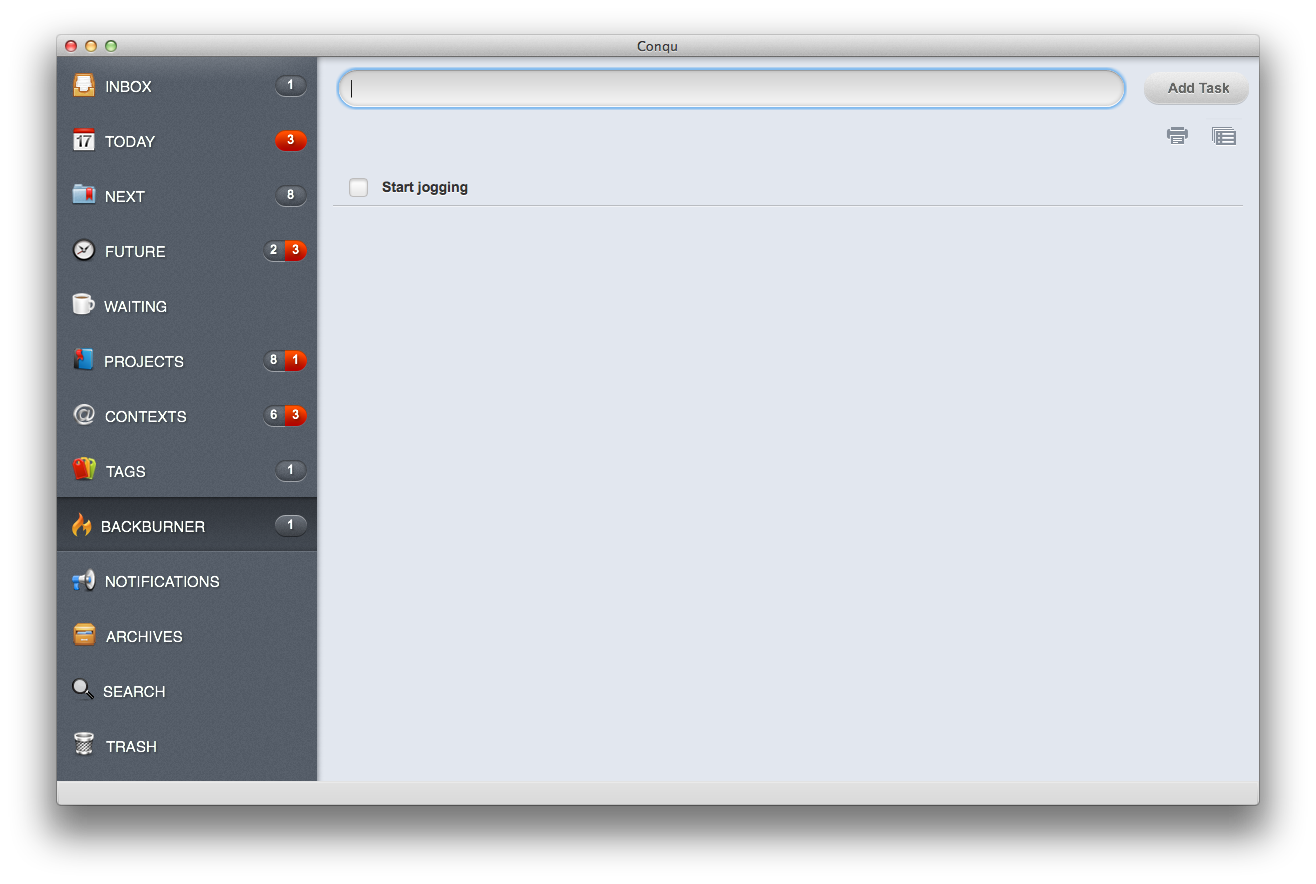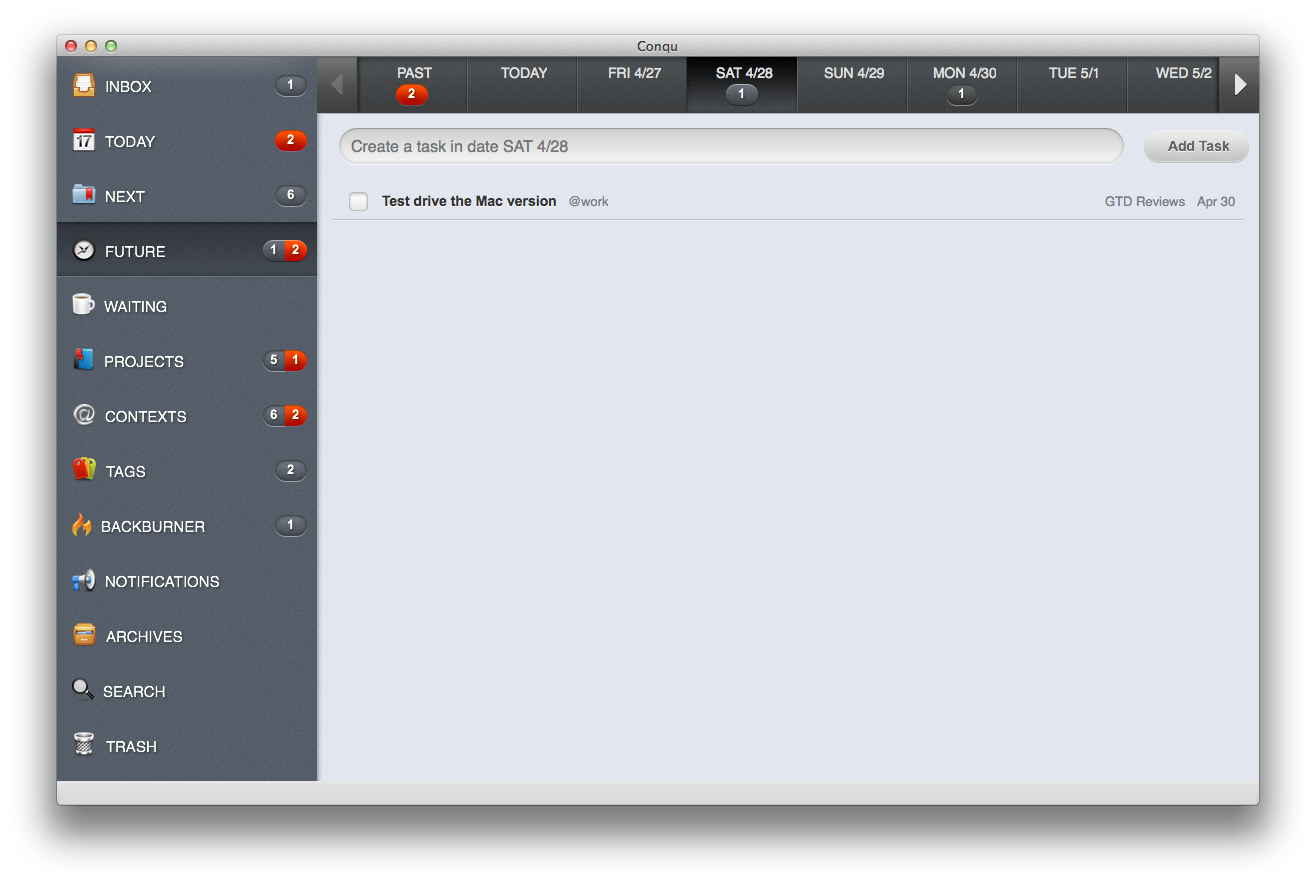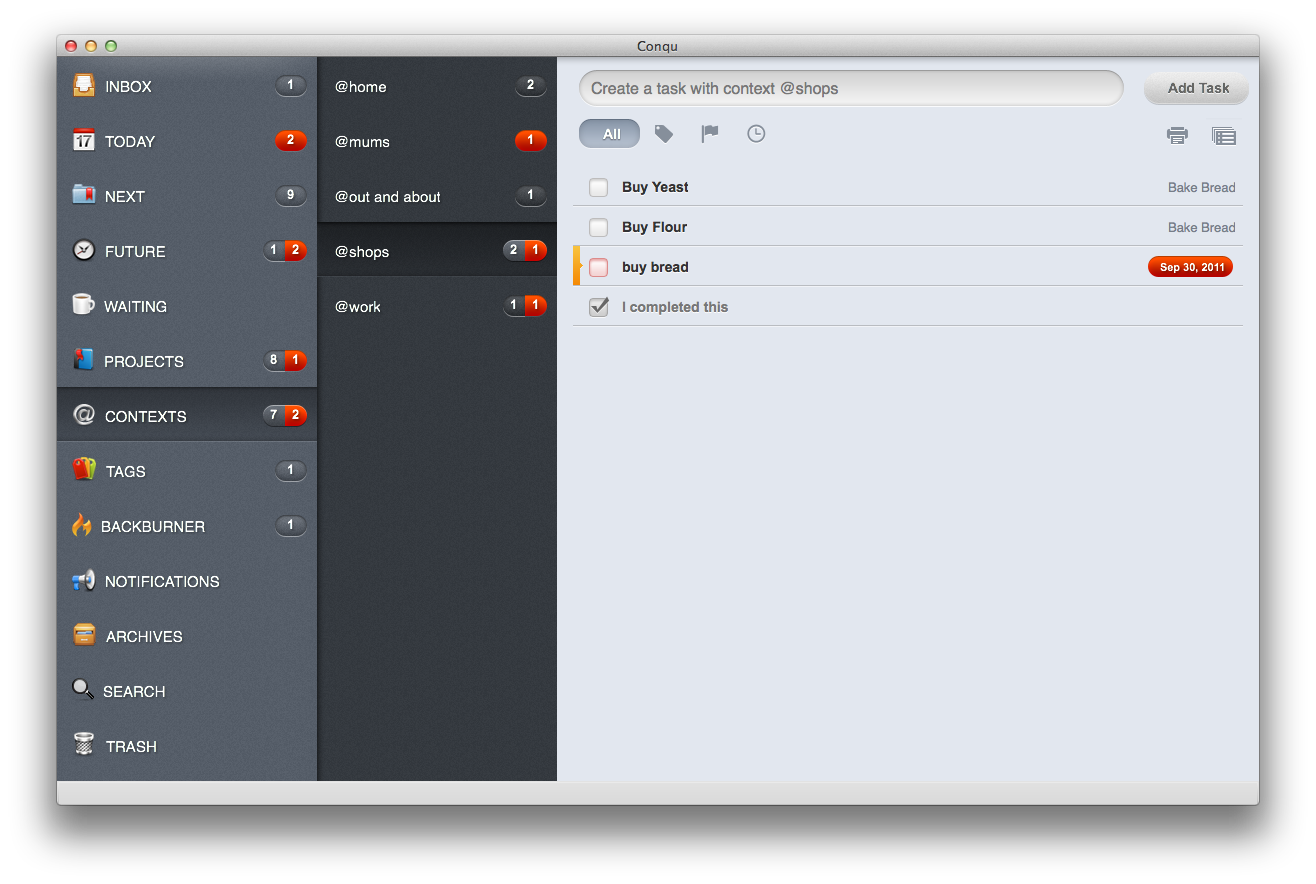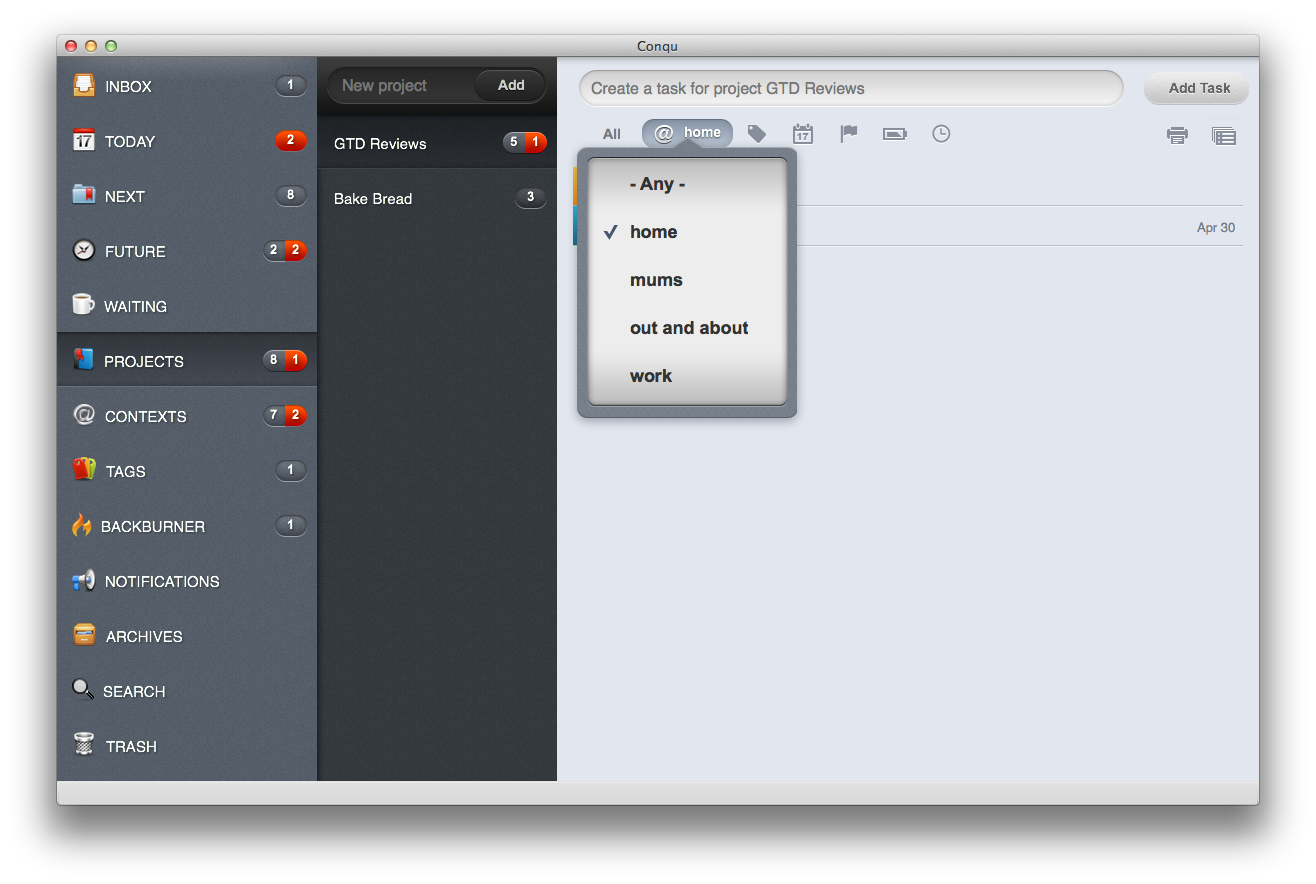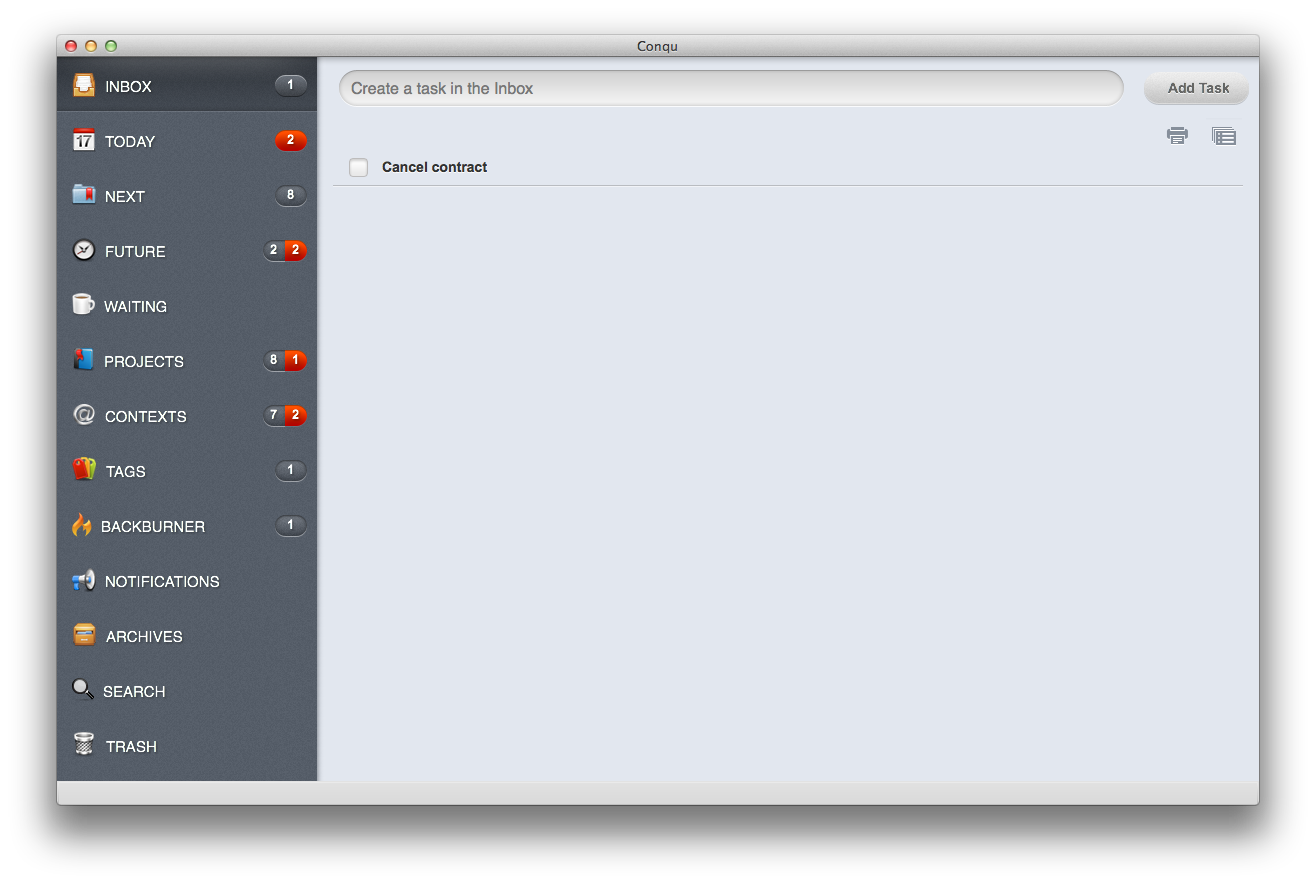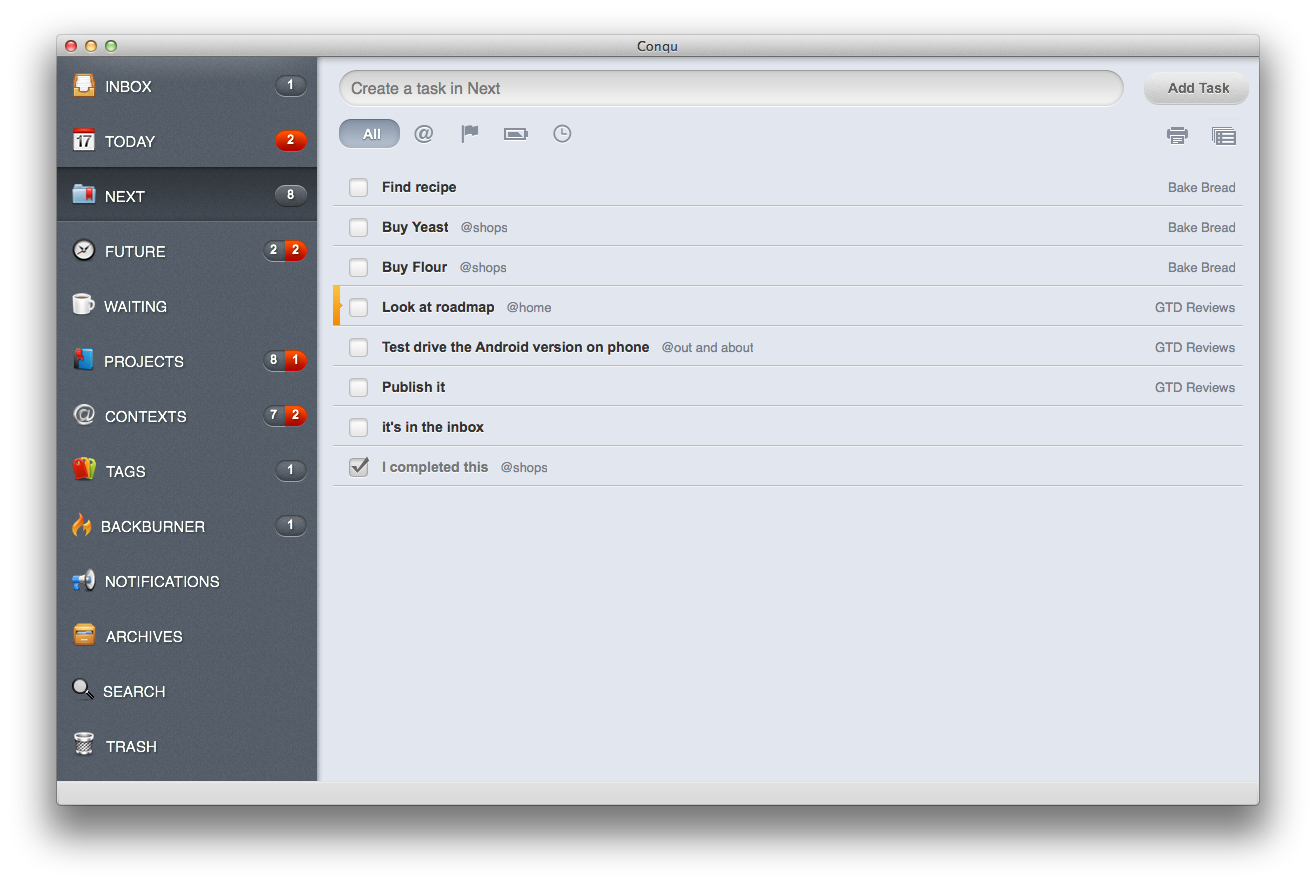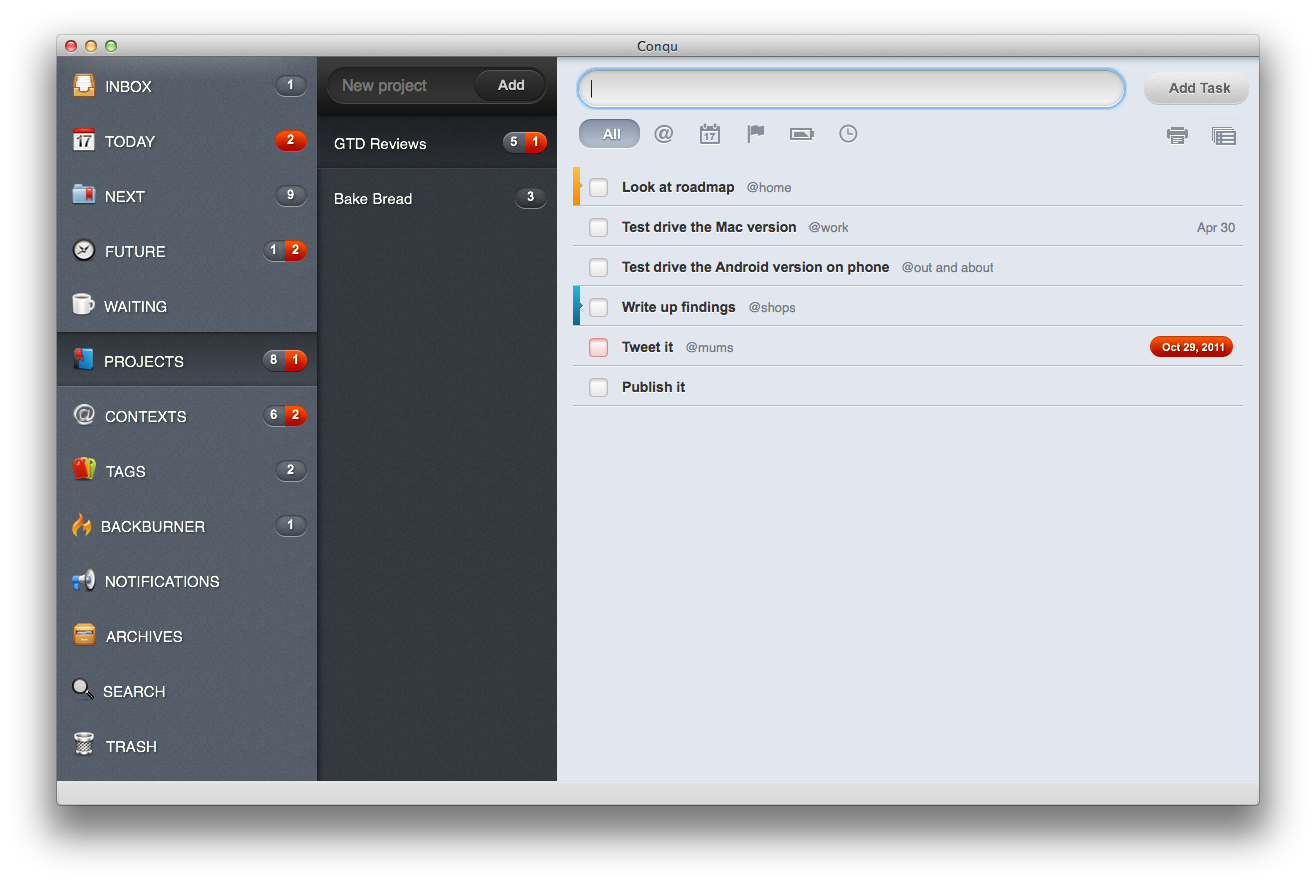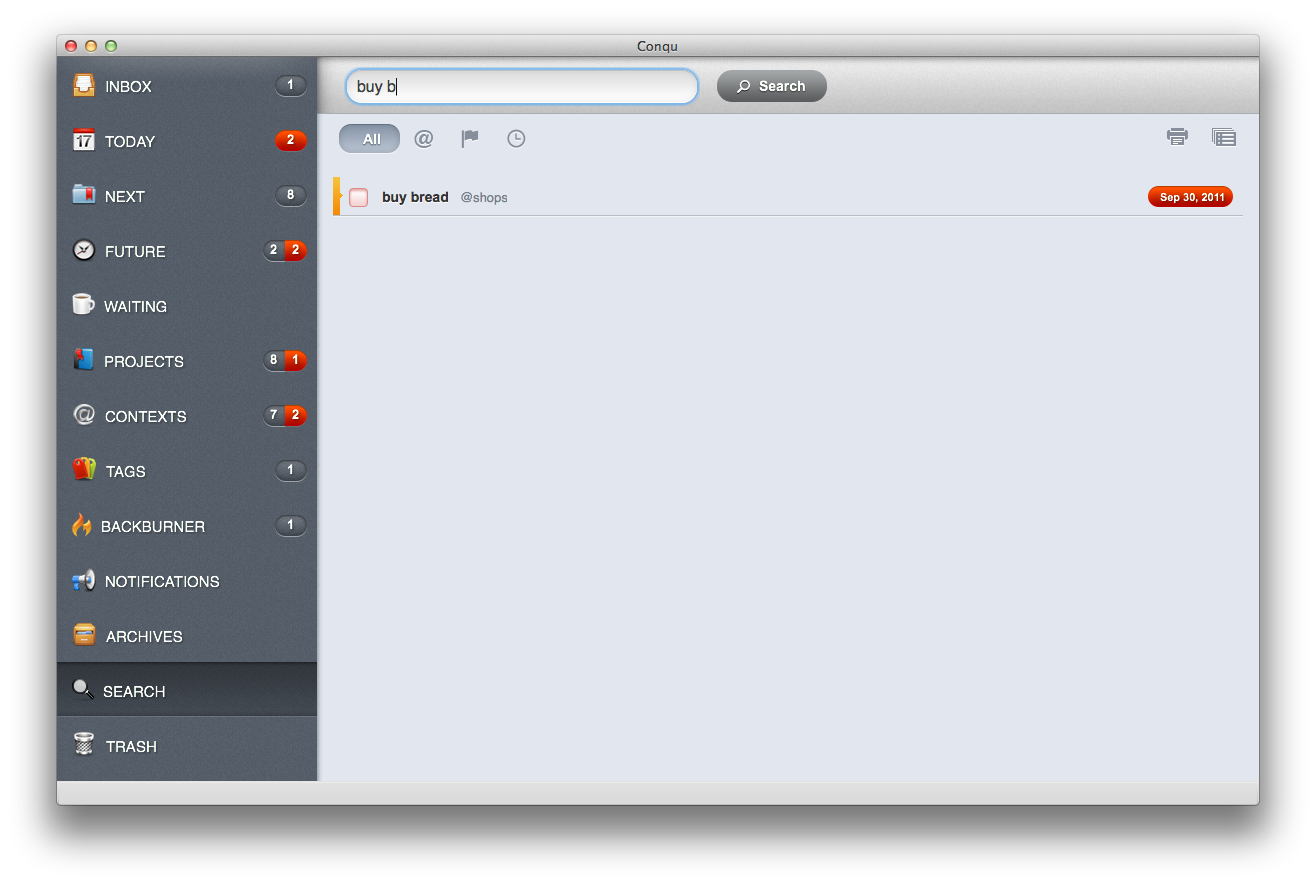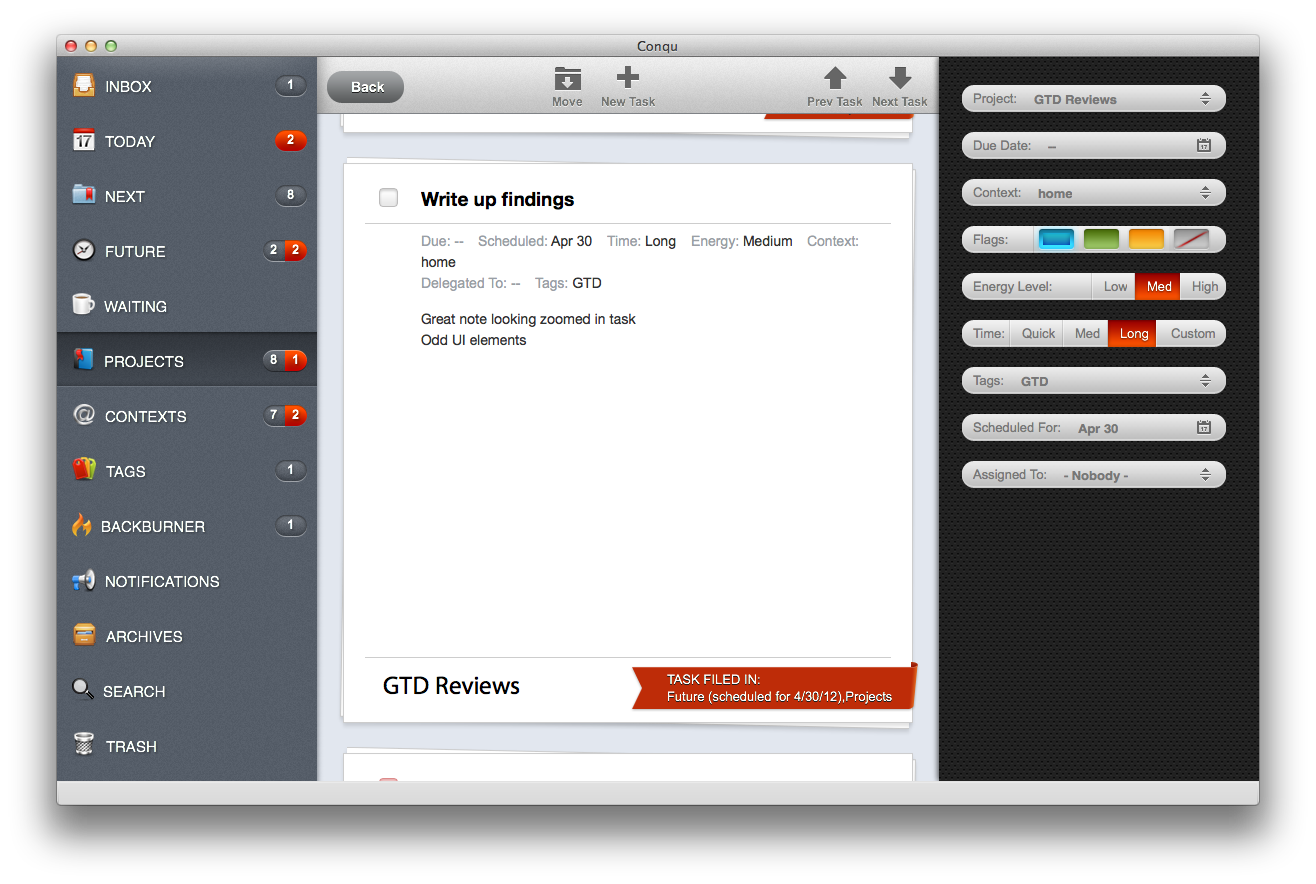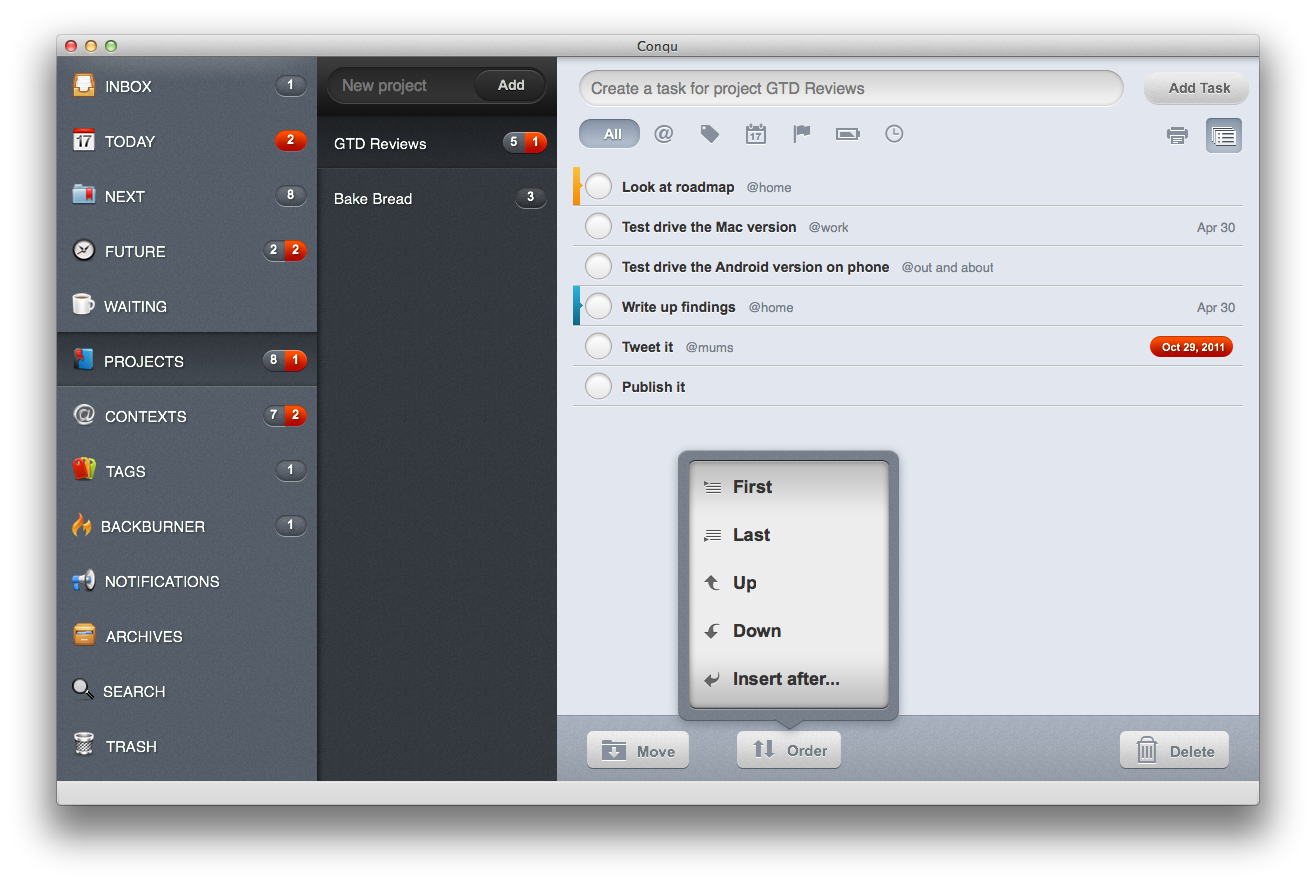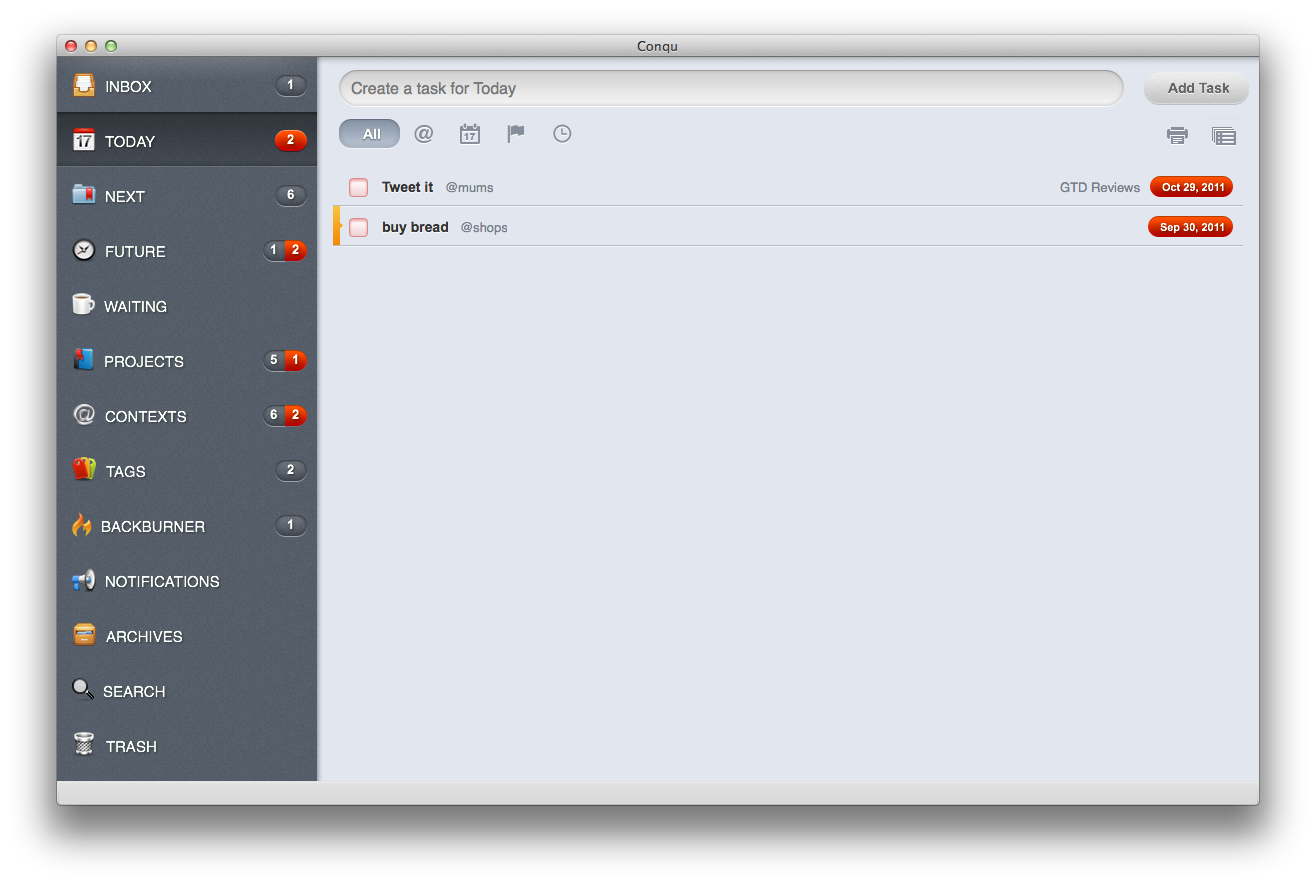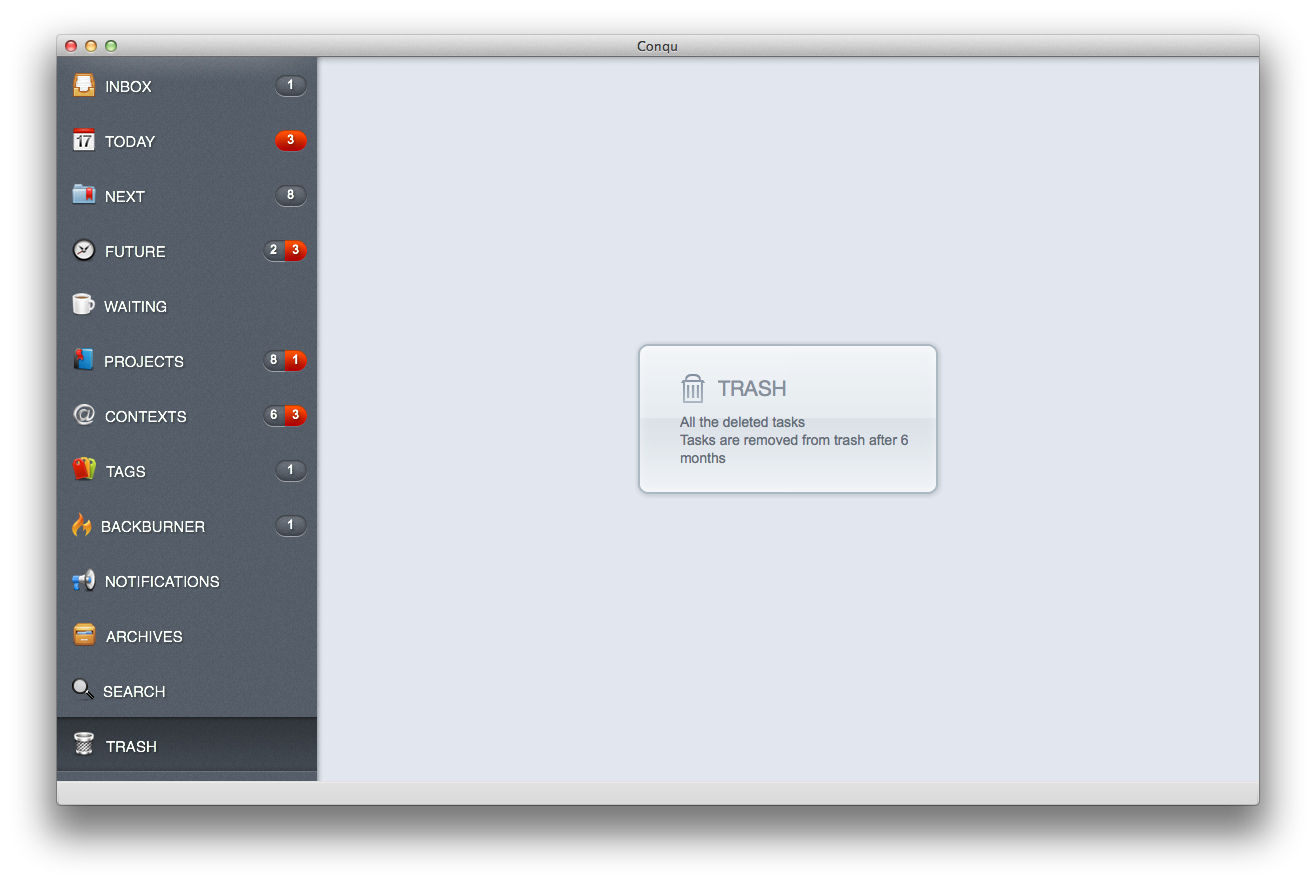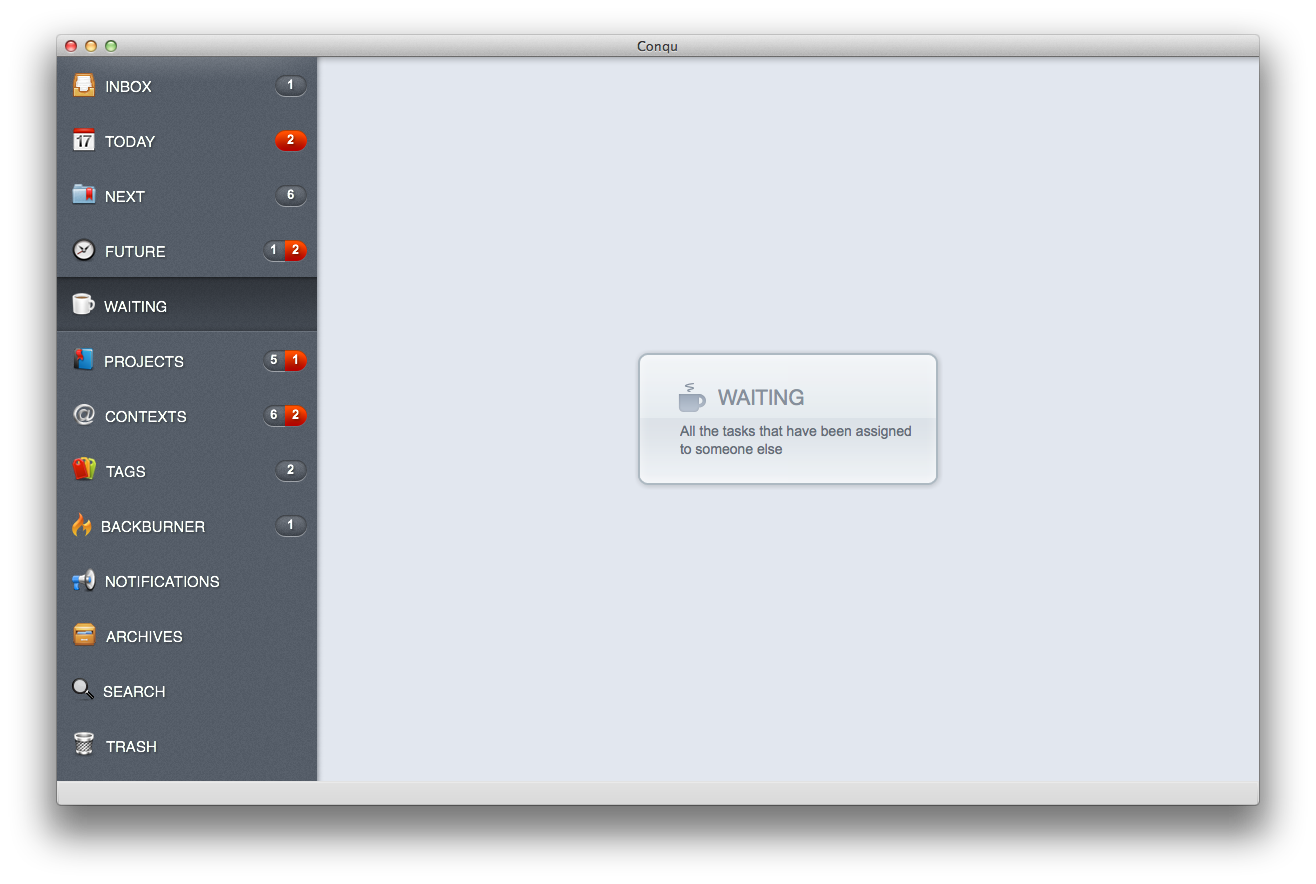 Platforms
Web, Mac, Windows, Linux, Android, iPhone/iPad, Playbook and Nook Colour. All available to download here.
Support
They're open about their roadmap and are active on their support forums where you can discuss bugs and suggest features.
Price
Free for all the apps. Optionally $53 per year for ConquSync which gives you backup to the cloud, syncing tasks across multiple devices and improved task sharing.